Japanese Fare
I has been 3 weeks since I started on my cooking "experiments" and I must admit that it gets a little addictive at times. The urge to try out something new is always on my mind and I can't help it but to constantly surf around for new recipes to whip up in the kitchen.
Though I have yet to satisfy any cravings
(well, I am a potato chip junkie so I can always buy my favourite Calbee Hot and Spicy chips off the shelf)
, it still brings great satisfaction seeing the food I try out turn out successful and well, platable.
I made it a Japanese themed week as I tried out Tonkatsu chicken with japanese curry, chawanmushi as well as green tea ice-cream with red bean paste. Of course with the Tonkatsu chicken and chawanmushi recipes taken from
ruth's website
:) Her zeal for cooking and her clear instructions make her blog a definite visit for me everytime I go online!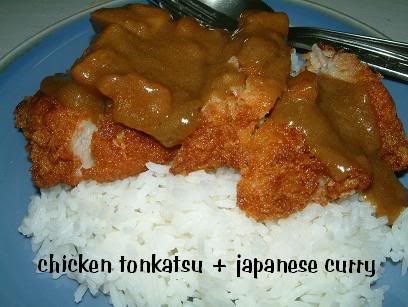 CHICKEN TONKATSU (adapted from ruth)
Ingredients:
1 cup of Panko (leftovers from what I bought from a Japanese supermarket and its different from tempura flour)

1 egg, beaten

3/4 to 1 cup of flour (I used leftover self raising flour from my muffins) and I think 3/4 cup of flour would be sufficient as there was lots of leftover when I used 1 cup.

2 boneless chicken thigh meat (as the pieces were too big, I cut them into 4 pieces)

Directions:
1) Season the meat with salt and pepper (me, having not seasoned anything before.. I added about 5 dashes of pepper and 2 dashes of salt and it tasted pretty ok)

2) Cover the meat in flour, dredge it in egg and cover the meat in panko in this order, ensuring that all parts of the meat is covered (and as ruth suggested to have a production line with these 3 ingredients lined up together so it facilitates the meat to go from flour to egg to panko easily)

3) Refrigerate for an hour (this is to allow the breaded layer to stiffen and stick to the meat)

4) Heat up the oil and wait for the oil to be ready (well, I used a dangerous method of placing my arm over the oil to see if its hot enough :) but for ruth she waited till she saw small bubbles rising and waited for another minute) and deep fry meat till golden brown

5) I also steamed hot a packet of ready mix golden curry for about 5 minutes and poured it on top of the chicken before serving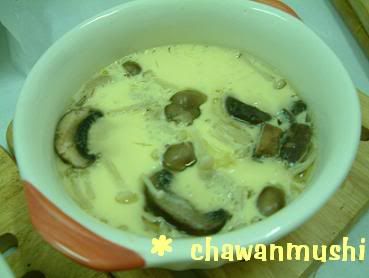 CHAWANMUSHI (adapted from ruth)
Ingredients:
2 eggs, beaten

3/4 to 1 cup chicken stock (well, I used chicken soup that my mum was boiling) If you like your chawanmushi watery, 1 cup of stock will be nice but if you prefer it less watery, you can try 3/4 cup

1 tbsp sake (but I used chinese wine from my mum's kitchen)

1/2 tbsp soya sauce

1/4 - 1/2 tbsp sugar (I found 1/2 tbsp sugar a bit too sweet so I guess 1/4 should be just right)

I added some mixed mushrooms I found from the supermarket

Directions:
1) Mix all the ingredients together and pour into container but do not cover the container as it allows the chawanmushi to set and cook faster

2) Boil water in steamer till very hot and lower the chawanmushi into the steamer and put the fire to low to allow egg to set smoothly

3) I steamed my chawanmushi for a good whole 30 mins
GREEN TEA ICE CREAM WITH RED BEAN PASTE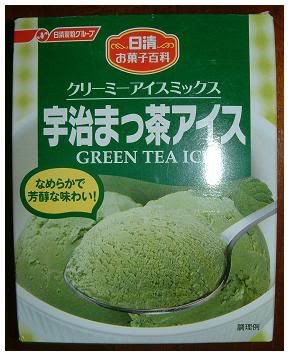 Well, I found this at Medi-ya a few weeks ago and the picture was just so tempting! Though the actual ice cream I made out didn't look that presentable (well, thats why I didn't put up any pictures), it tasted rich and milky and really really nice!! I bought a packet of ready made red bean paste found at Medi-ya as well and it complemented the green tea ice cream!!
Though the instructions were in Japanese, I could sort of decipher the ingredients as well as the proportions by looking at their pictures behind the package :)
Directions:
1) 1 egg yolk beaten
2) 3/4 cup milk
3) Add the green tea mix and mix well till all dissolved and freeze for about 3 hours
Labels: Miscellaneous Recipes, Recipe - Chicken, Recipe - Eggs