~ fine settimana italiano ~
It was my first attempt cooking for the family. Tough choice. It was like cooking for a panel of judges that was skeptical of my cooking abilities beacause of my infrequency in the kitchen.
Then the examiner said "spaghetti" and so I had to make spaghetti. A student's worse nightmare is cooking something totally new and untried before and sitting before the judges to scrutinise and comment. Almost immediately after the topic was set, I scoured the entire world-wide-web and found this!
Of course I have to give credit to my trusty helper who helped with all the little details in the preparation. Thank you sweetie! :) *hugz*
Spaghetti with baked meatballs (adapted from
dainty bites
!)
Ingredients and directions for spaghetti sauce
2 cans of 14.5 oz each whole tomatoes from Hunts, mashed using 2 forks
1 can (6 oz) tomato paste from Hunts
1 medium onion, finely chopped
2 tbsp olive oil
2 tsp salt
1 clove garlic, finely chopped
1 tsp dried basil leaves
1 tsp dried oregano leaves (I used ground oregano powder)
1/2 tsp sugar
1/4 tsp red pepper flakes (I used groud black pepper instead)
Mix all the ingredients and leave it in slow cooker to cook for about 5 hours (I placed the cooker on high and when big bubbles started to appear occassionally, I left it on low)
Ingredients and directions for meatballs
(the original recipe from dainty bites used 750g of meat, but I only had 250g thus I have ammended the recipe as follows)
250g lean ground pork
1/2 cup dry bread crumbs
3/4 egg (how I got 3/4 of an egg... I used 1 egg, poured into my meat and drained out excess egg that couldn't be marinated in (-: )
a handful of grated Parmesan cheese
2 dashes of evaporated milk
1 tbsp dried parsley flakes
1/3 clove of garlic, finely chopped
a pinch of salt
1/4 tsp dried basil leaves
1/4 tsp dried oregano leaves (again I only had oregano powder)
a dash of dried thyme leaves (and I had only thyme powder)
a dash freshly ground black pepper
When I found my marinated meatballs a bit too soft, I added more bread crumbs and started scooping the marinated meat up and hitting it hard against the bowl repeatedly like playing baseball, in order to give it a firmer texture
Mix all ingredients thoroughly. shape the meatballs and I placed them into my trusty turbo boiler to cook for about 20 mins in about 200 degrees
And in an attempt to bribe the judges, I couldn't resist but to complete my italian themed weekend by trying out tiramisu from
ruth's
webbie
Ingredients and directions for tiramisu
250g marscapone cheese
1 egg
2tb heaped icing sugar
1/2 ts vanilla essence
2tb Bailey's Irish Cream
sponge fingers (Lay enough to cover the tray)
1 cup of black coffee (its ok to have coffee left after making the tiramisu so don't worry!!)
cocoa powder for dusting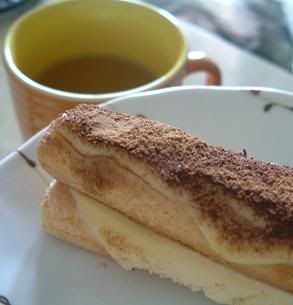 Separate the egg yolk and white
Mix the yolk with the sugar and add the vanilla essence. Stir in the marscapone and mix thoroughly.
In a separate bowl, whisk the egg white till soft peaks form. Then, add the egg white to the marscapone mixture. Pour in the Bailey's Irish Cream. Give everything a thorough mix. In a tray lay out enough sponge fingers to cover the base. Spoon coffee onto the sponge fingers (about 3 tbsp each layer) and then smother with marscapone. Lay out another layer of sponge fingers, spoon coffee over and smother with marscapone.
Dust with cocoa powder and chill till ready to serve.
The Verdict?
The judges found the spaghetti sauce too tangy for their liking but I loved it! The meatballs were yummy and they thought the tiramisu was bought from a shop!
Piacere!
(which means enjoy, by the way)
Labels: Recipe - Desserts, Recipe - Italian